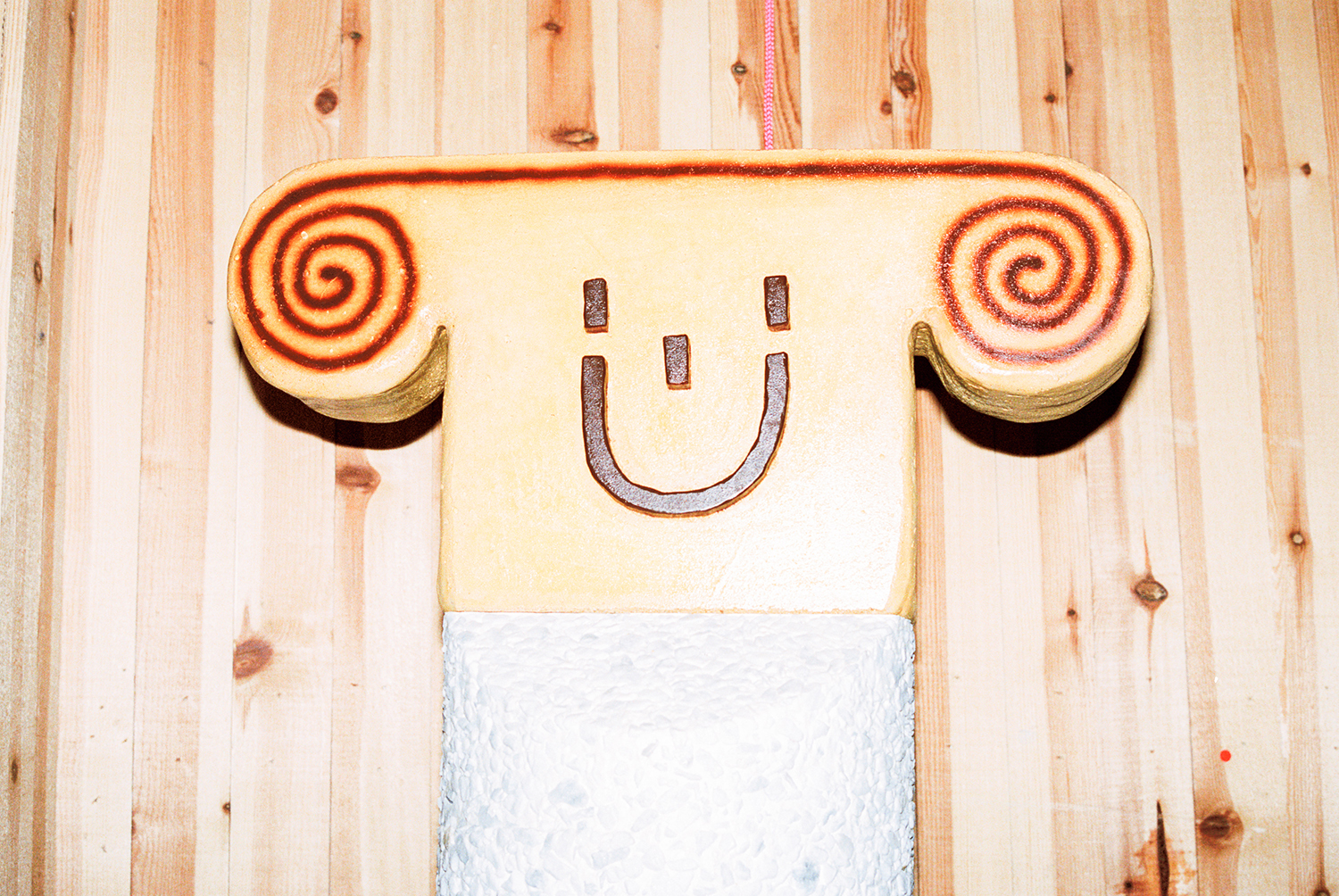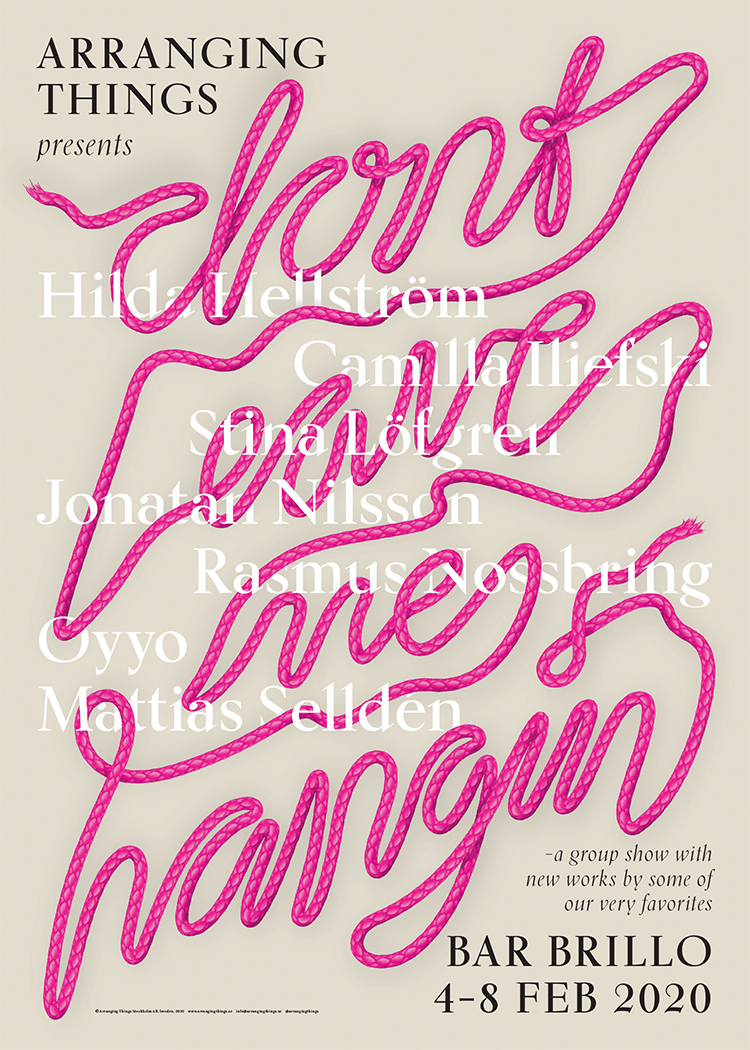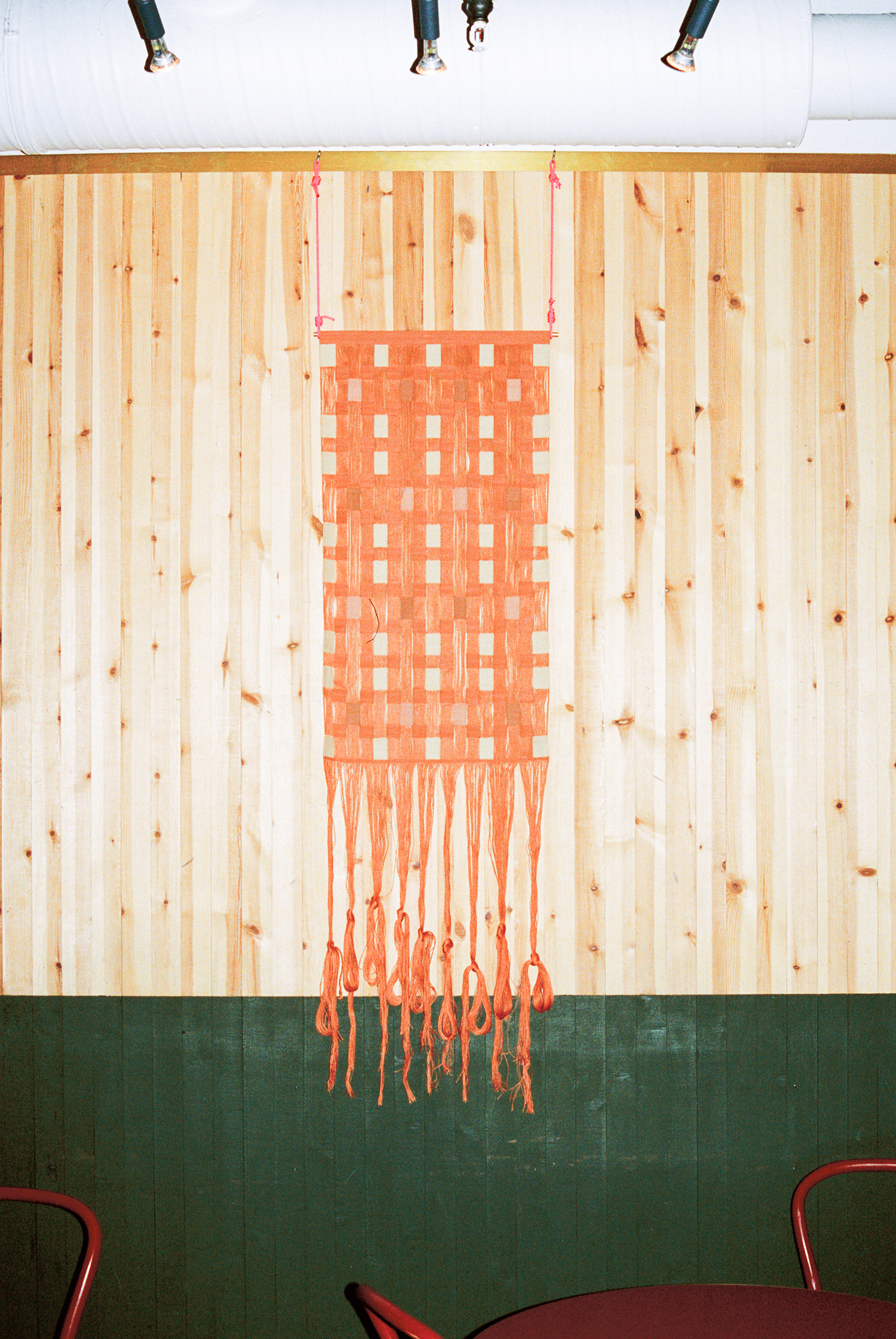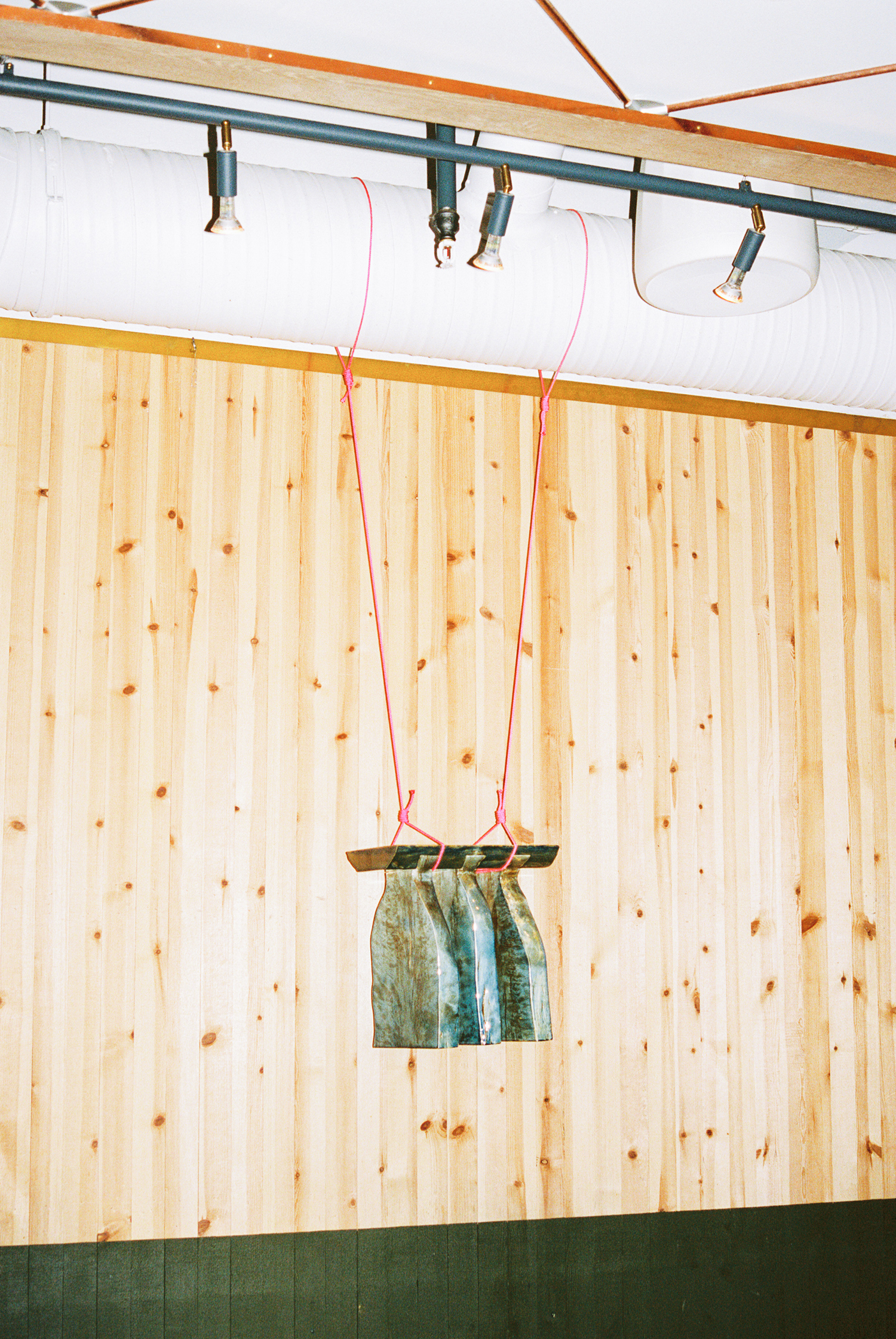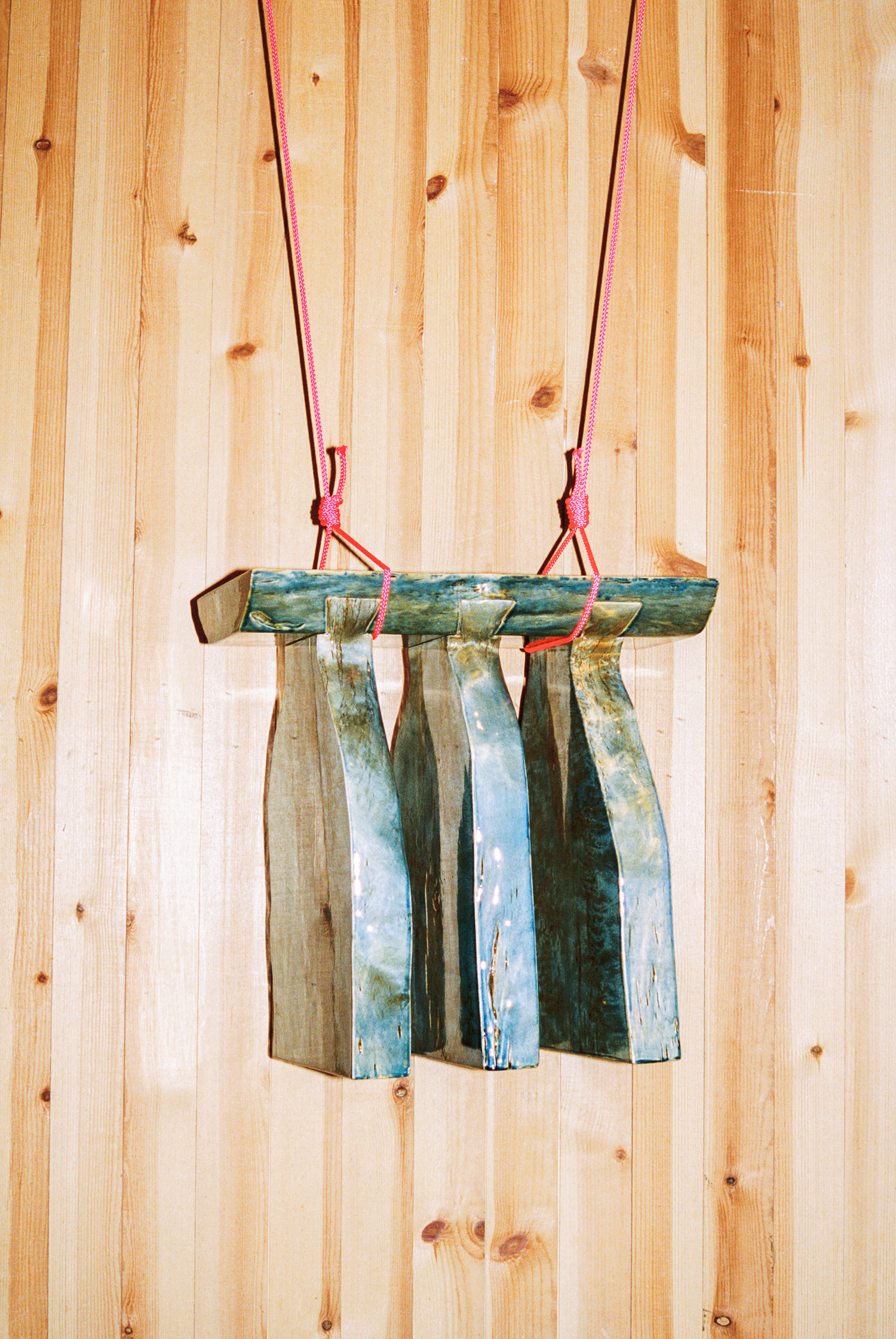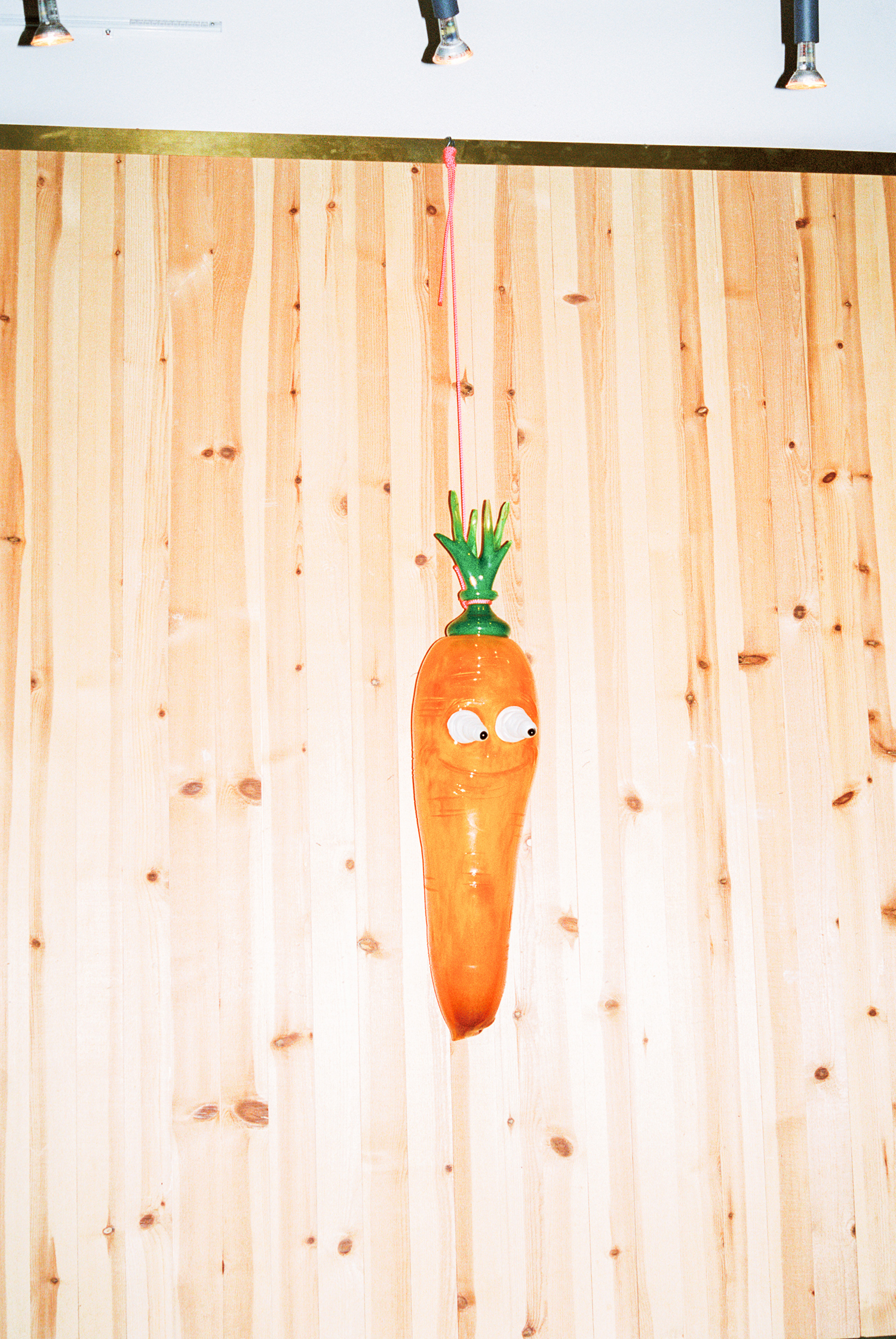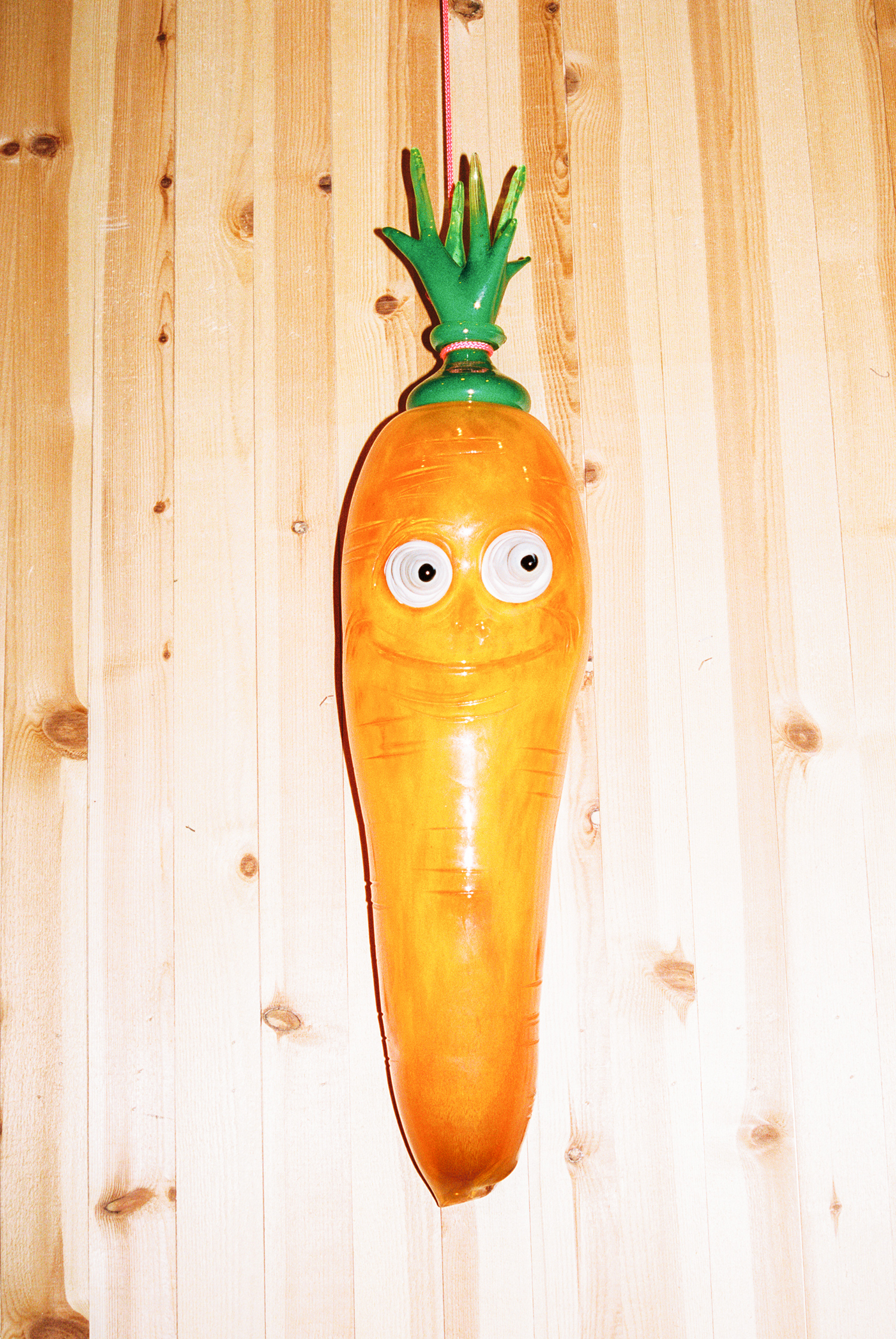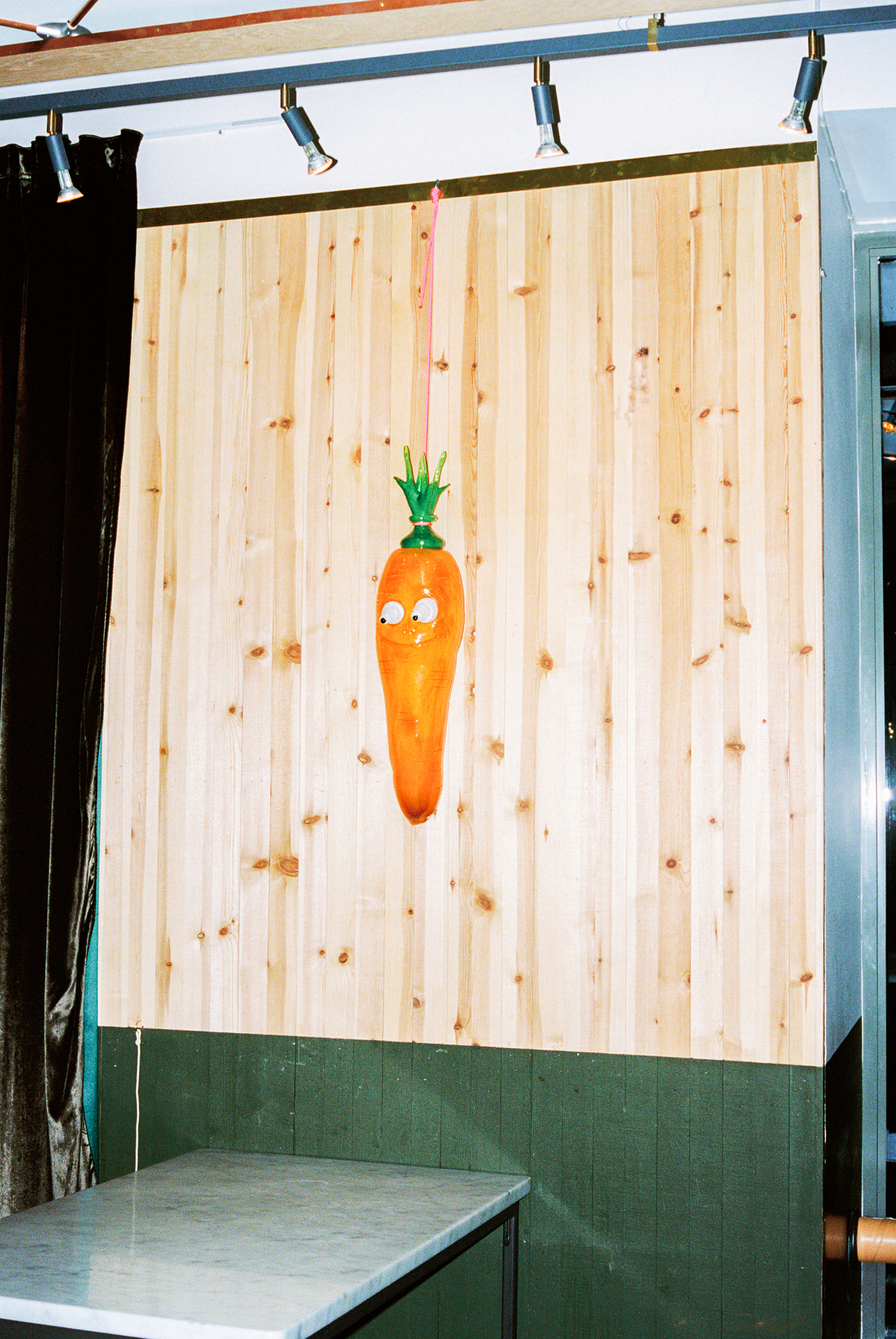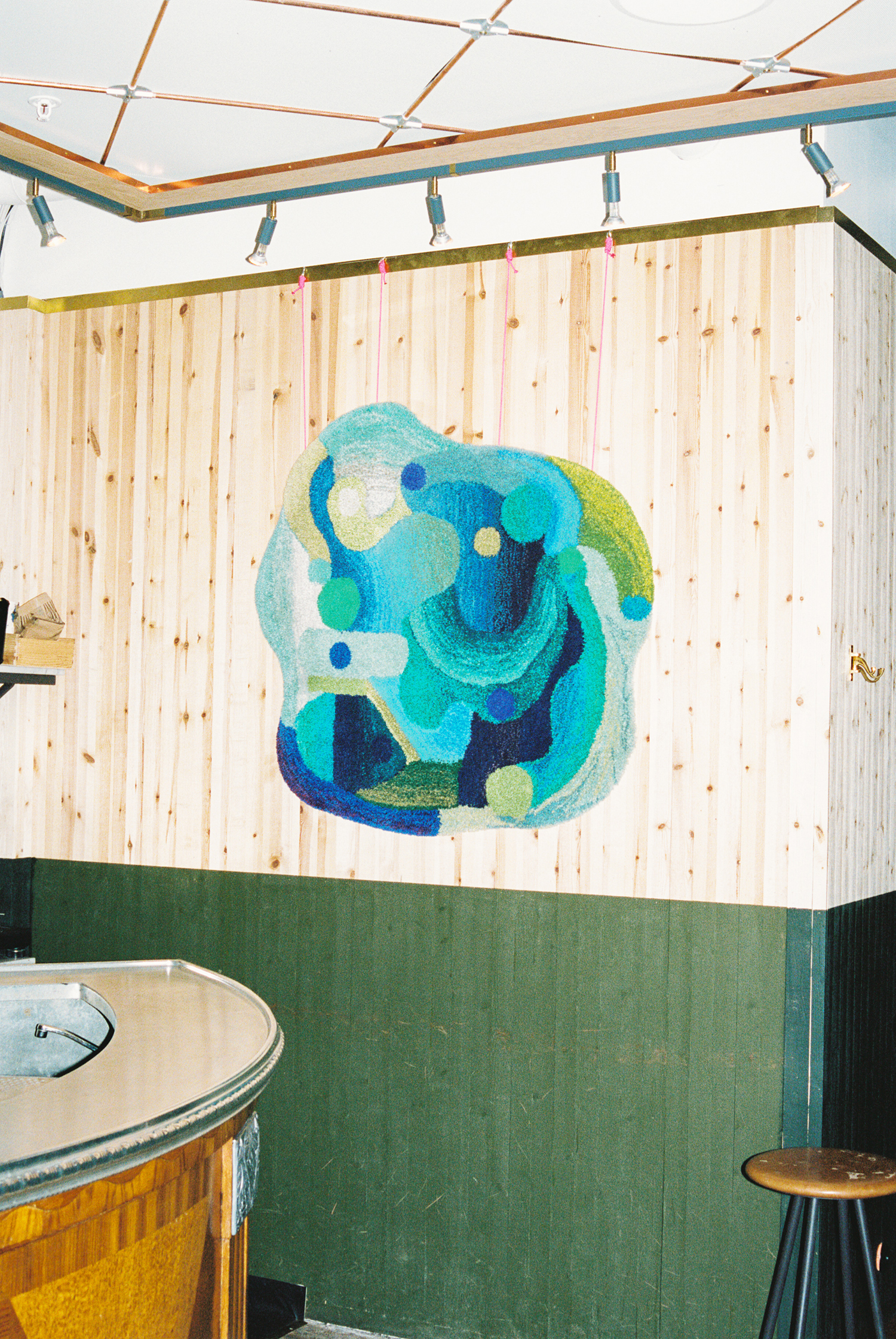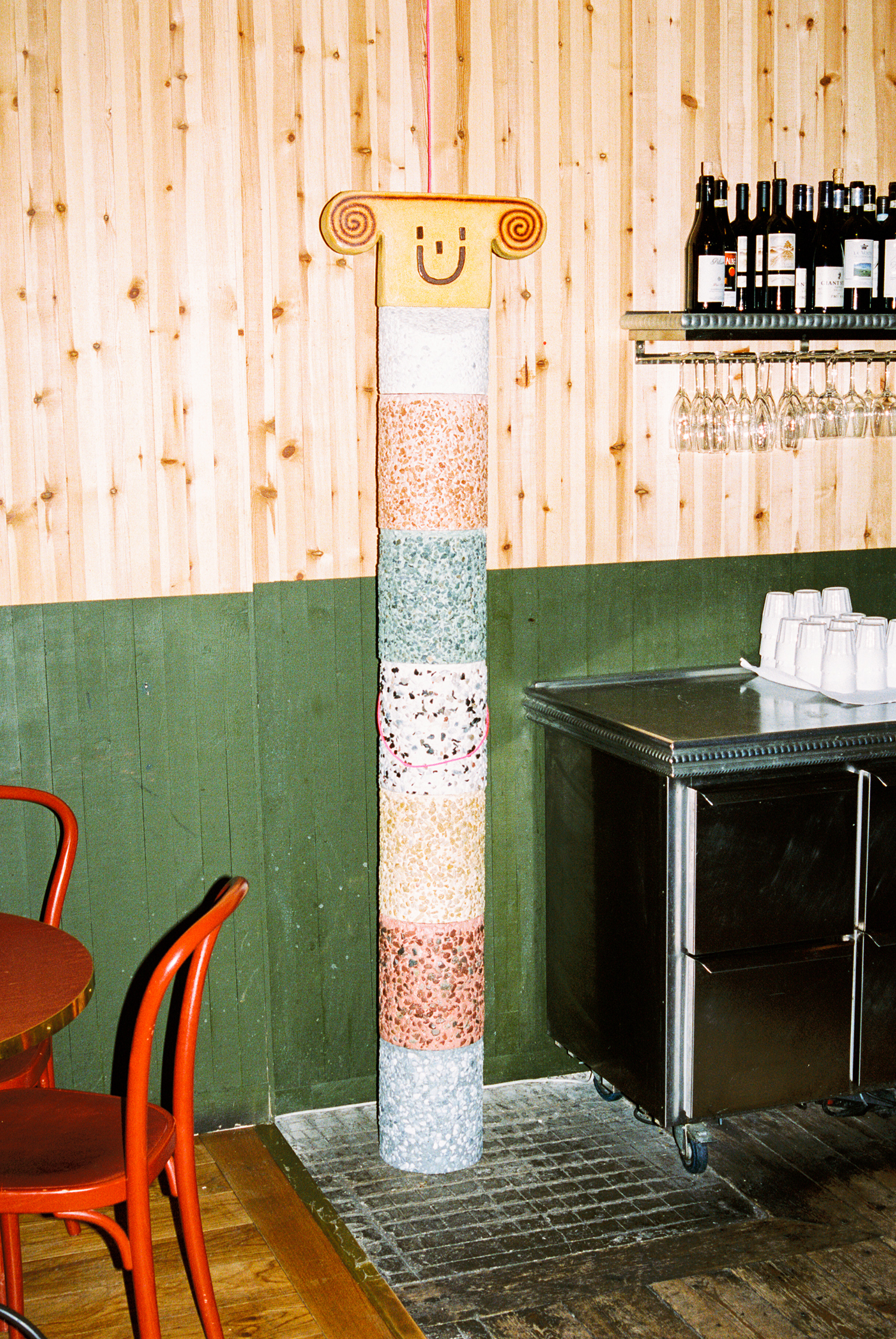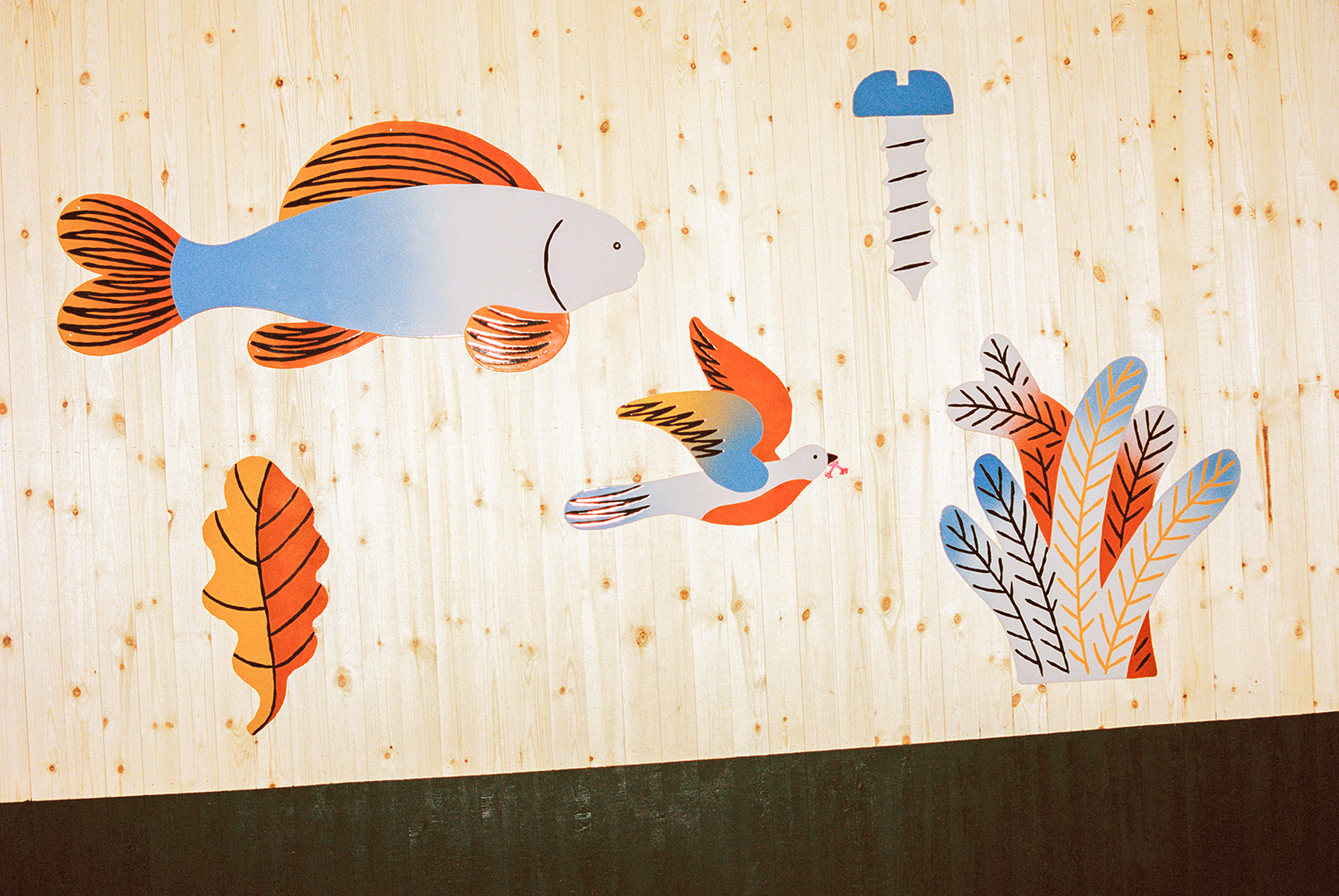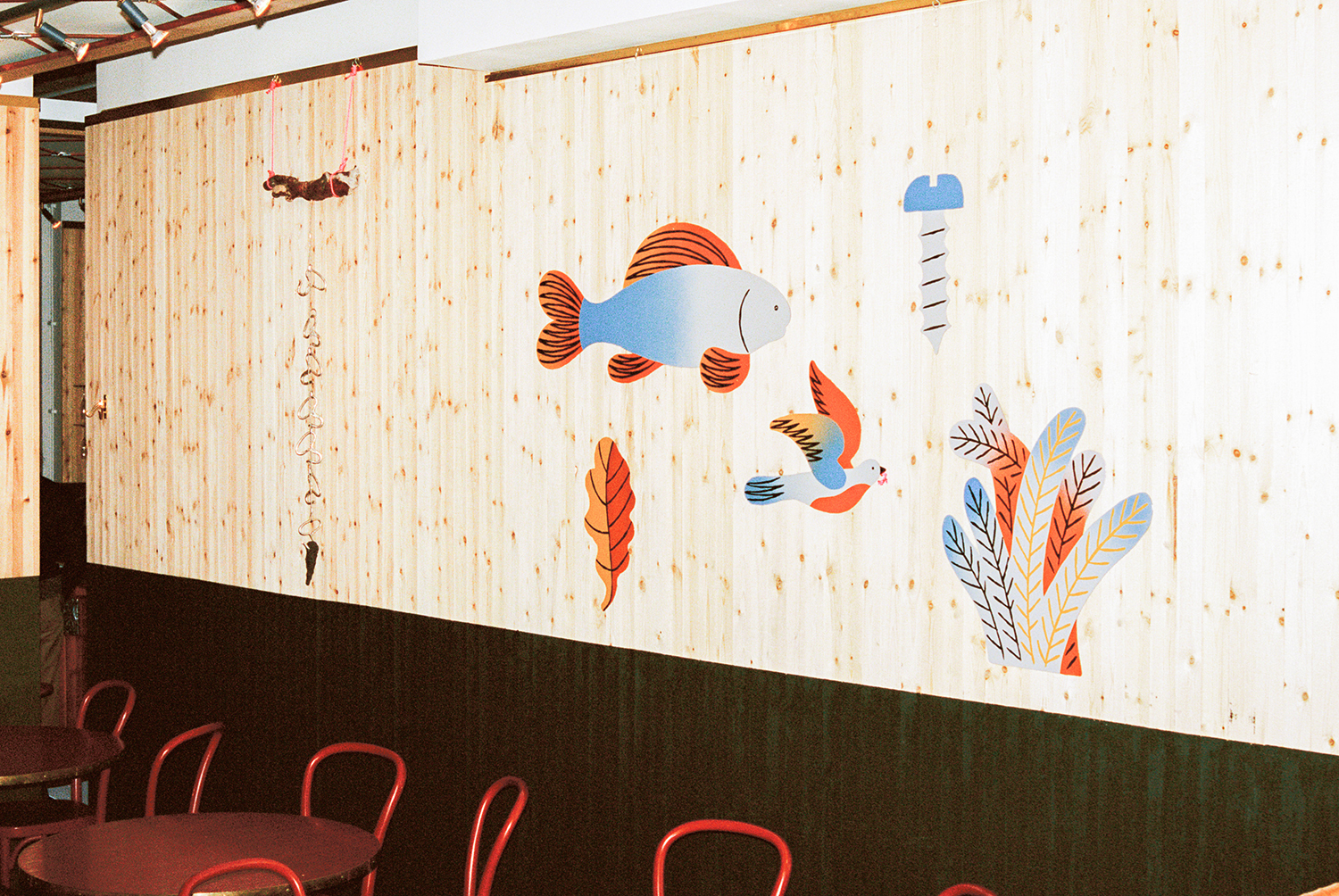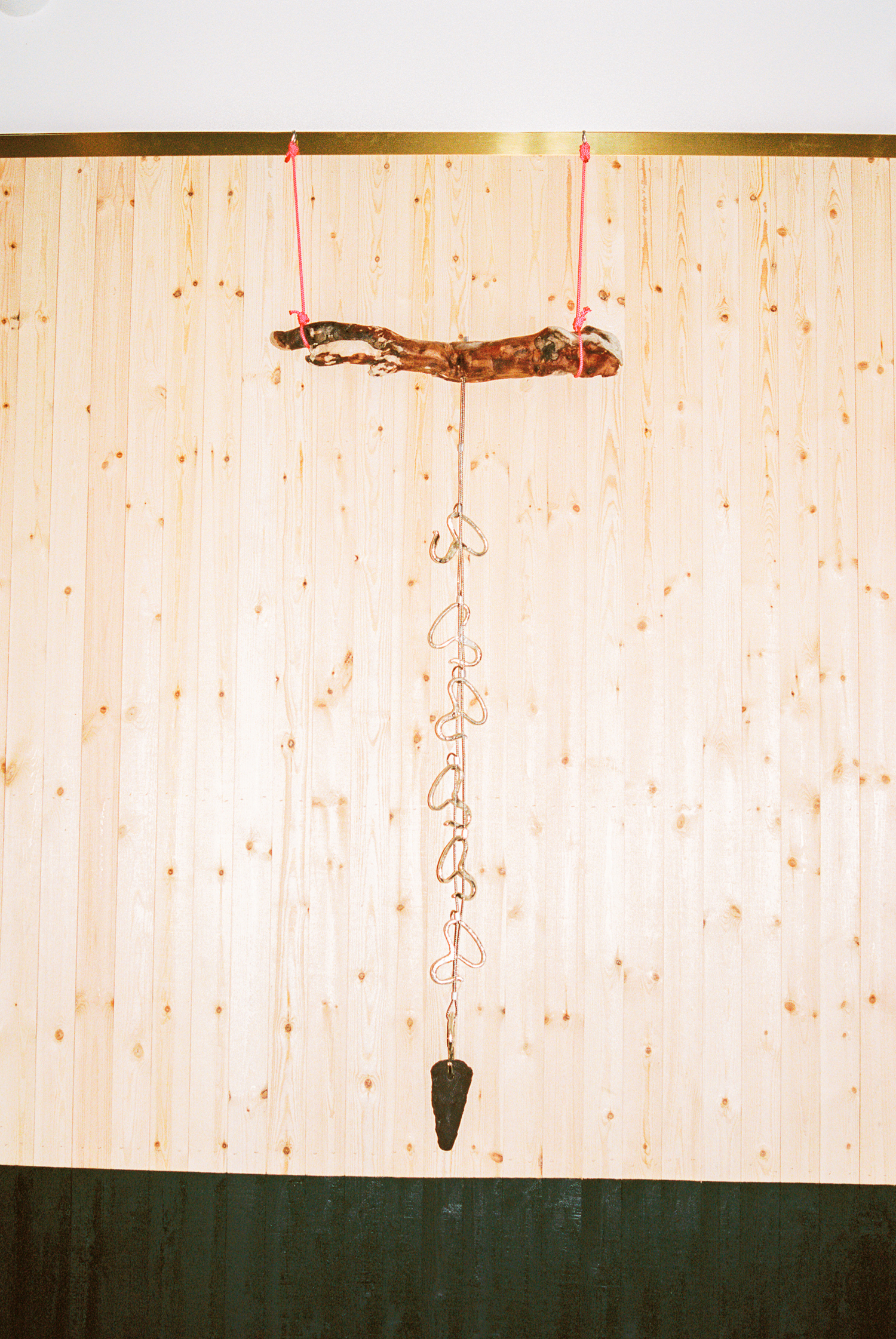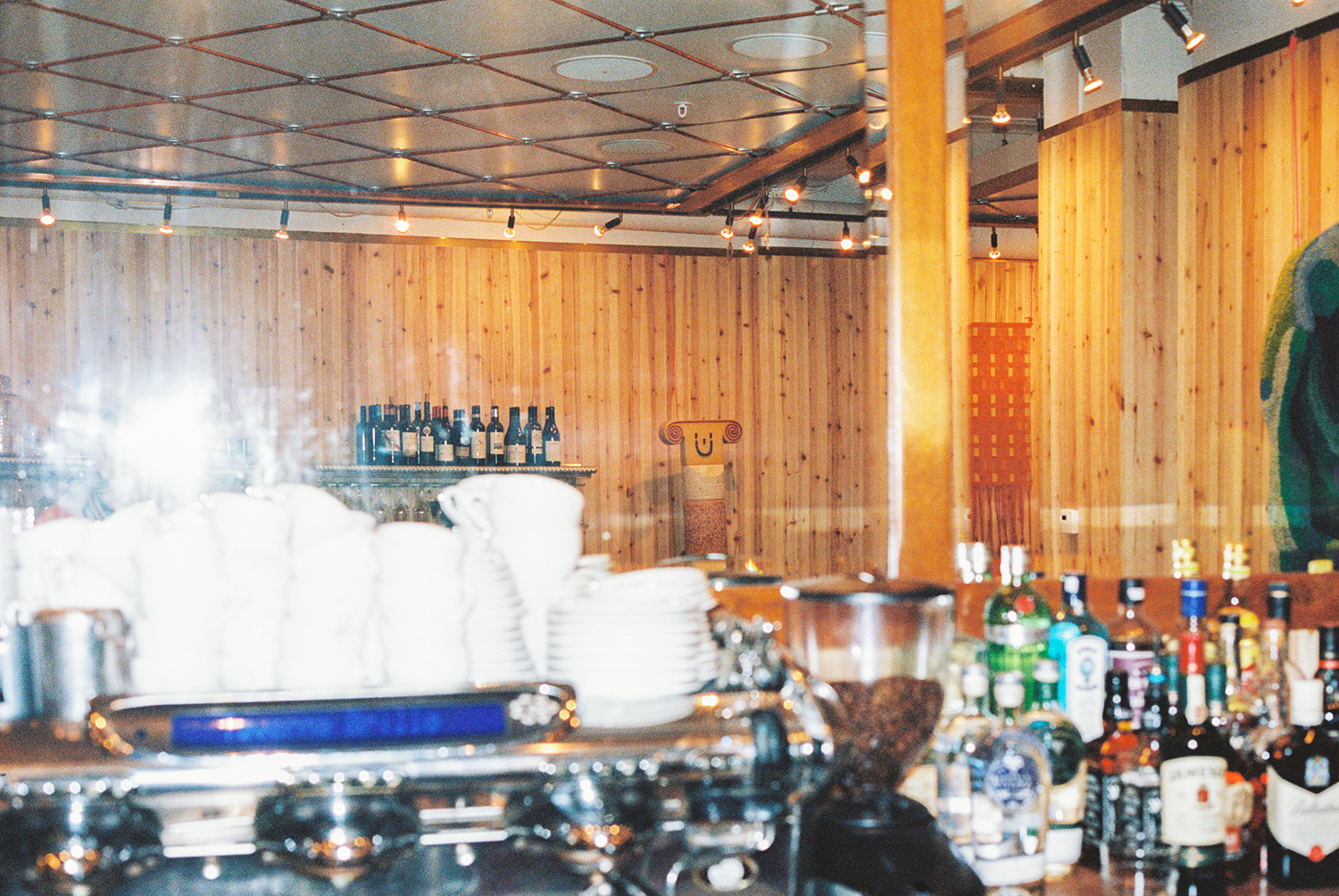 Don't Leave Me Hangin'
We got to take over the wonderful Bar Brillo for all Design Week, and fill it with whatever our hearts desired. Our hearts desired to put together a group exhibition showcasing the incredible talent, width and versatility of some of our favorite contemporary Swedish artists/designers. We chose to include seven different works by eight different people (Oyyo is a duo if you're confused about the math) working in a wide array of disciplines. Usually Bar Brillo hangs its art with "invisible" fishing line but we usually find it to be quite visible so we opted instead for the opposite route, a highly visible neon pink dock line... All works were made especially for the show that we called Don't Leave Me Hangin'. The opening night was a lovely busy evening and it was decided right there and then to prolong the exhibition which therefore will be left hangin (yes we know) til March 7, 2020. Go check it out! Huge thanks to all the contributing talents, we think the world of you!
Artist: Oyyo
Title: "Terracotta/Pink -Linen"
About: Oyyo's tapestry exploration aims to demonstrate craft as collaborative practice and mutual learning experience, pushing the limitation of traditional tapestry weaving ways. Woven in Oyyo's own weaving studio in Maharashtra, India. Linen weft and warp, all colours from natural dyes.
Artist: Mattias Selldén
Title: "Untitled with three legs", 2020.
About: I'd like to be under the sea
In an octopus' garden in the shade
He'd let us in, knows where we've been
In his octopus' garden in the shade
I'd ask my friends to come and see
An octopus' garden with me
Curly birch wood, linseed- and tung tree oil varnish, pigment.
Artist: Rasmus Nossbring
Title: "Non GMO, Promise", 2020.
About: Blown and sculpted glass
"There is something charming in the lopsided. When something is chafing in a stirring way. In my sculptures I work a lot with shifting mundane situations and objects, disarming the boring and disregarded."
Artist: Camilla Iliefski
Title: "Loose" – tapestry, handtufted in wool and linen, 2020.
About: Camilla Iliefski has been active as a designer on her own and in groups since 1998. She works cross-disciplinary in the area of design and crafts. Her interest is in the role which process and material plays in her work and since 2010 she has focused on the hand-tufting technique. Camilla has a master's degree in visual communication, completed in 1998 at the School of Design and Crafts, Göteborg University (HDK), Sweden.
She teaches at the School of Design and Crafts, Göteborg University since 2006.
"In my process I sketch directly on the weave and use material and colour spontaneously as a part of the making. This makes each piece unique in colours and shape, they all become different."
Namn: Jonatan Nilsson
Verk: "Concretely happy", ionic column #1, 2020.
About: "'Concretely happy' is an ongoing project where I work in concrete. My ambition is to experiment with the expression of the material and to investigate the need for a figurative narrative within design and architecture. Ionic#1 is my largest work in concrete so far and it is composed of pigmented concrete with stones from Sweden, Norway and Italy. "
Artist: Stina Löfgren
Title: "The Shoal" ("Stimmet"), 2020.
About the piece: Wall mounted figures in enamel. The figures are a selection from a larger public art commission, where the imagery of plants, animals and objects are linked together by existing in the same place – a former industrial area.
Artist: Hilda Hellström
Title: "Hanger" (110 x 60), 2020
About: "The hanger is made from things found in my studio. The hooks are pewter-casts from the 19th century that I found in the collection of Hallands Museum of Art, during research for a commission for the museum. The same goes for the flint-axe that here is used as a weight. The piece of wood is a root that I found on the beach of the Swedish west coast last summer."
Photos
Isak Berglund Mattsson-Mårn
Poster art
Hugo Sundkvist